Date published : 28 March 2021
How to register on British Malayali Matrimony
Weddings are one of the most significant events of our life, unlike other matrimonial platforms, British Malayali Matrimony provides an absolutely free of cost registration. We do not demand customers to make any payment until they have found their ideal partner through British Malayali Matrimony.
If you are looking for your life partner or thinking about registering a profile here at UK Malayali Matrimony, this article will give you an insight into how to register with UK's first and NO.1 Malayali Matrimony, providing services for all Malayali's around the world.
You must be eighteen (18) or over to register as a member of the service or use the site. If you sign up for the service but are prohibited from doing so, for example, because you are too young, then your membership will be invalid. By using the site, you agree to abide by these terms.
If you want to register on British Malayali, here are some of the steps you would need to follow:
Step 1:

Visit the following link and complete the registration form presented on the site: https://www.ukmalayaleematrimony.com/register

Step 2:

You would be asked to verify yourself by SMS/Email. You will receive a six-digit code and you will be required to input the code to continue with the registration process on British Malayali Matrimony.

Step 3:

You will be asked to provide some of the basic information about yourself such as name, religion, caste, and qualification background.

Step 4:

In order to comply with the legal requirements as well as to provide a safe and secure environment, you will be asked to provide an identity document. The identity document should clearly show the date of birth and the name of the candidate who wishes to be registered with British Malayali Matrimony.
Step 5: Your profile will be created and you will be given a 'Customer Reference' which can be used to identify the individual within the British Malayali Matrimony platform.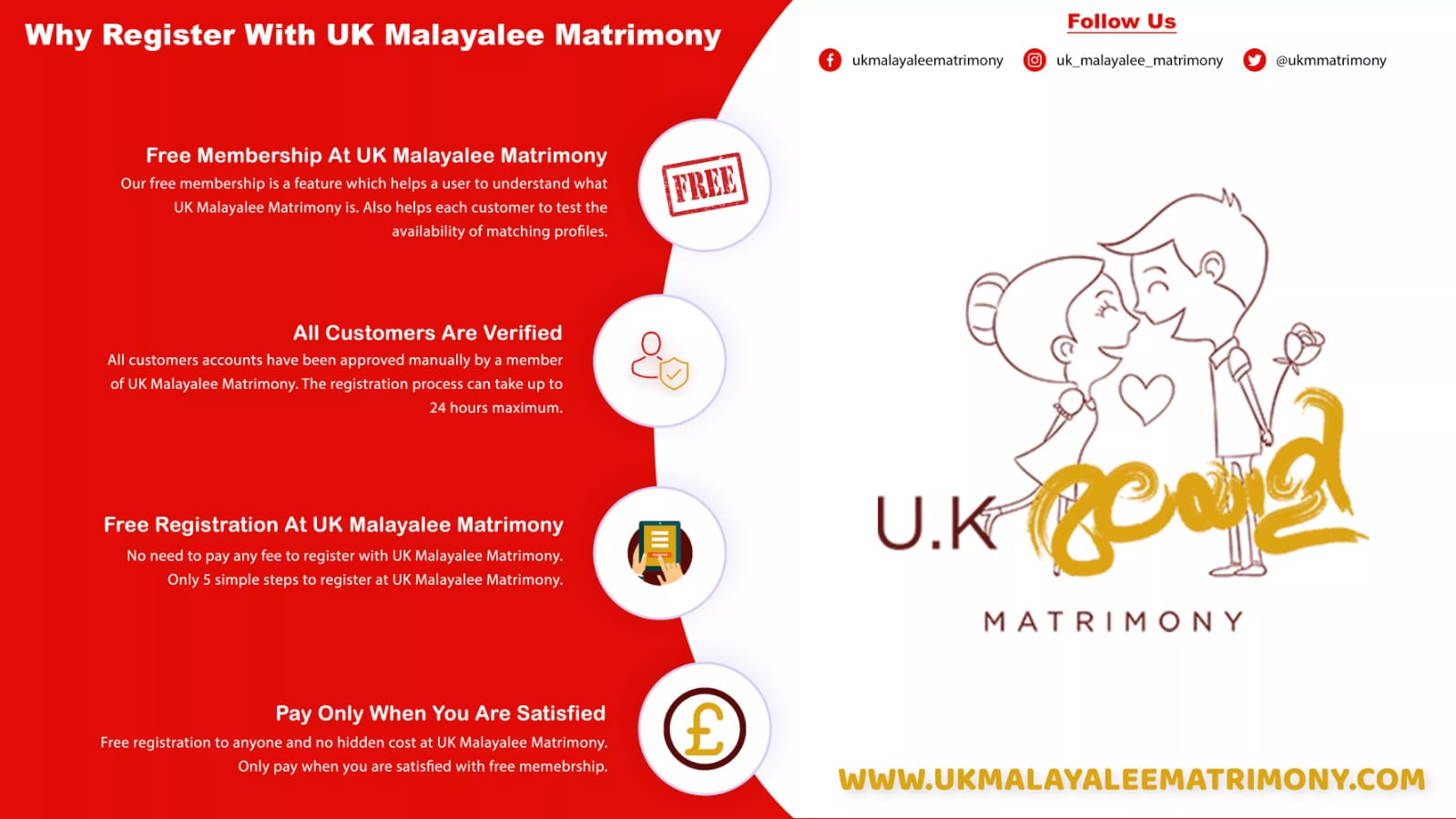 For those who have settled in the UK or are planning to relocate to the UK, British Malayali Matrimony would be an ideal platform to find your British Malayali partner. Over thousands of verified and trustworthy profiles are registered on British Malayali Matrimony. No.1 Malayali Matrimony in the UK with an unbeatable Membership package offering for the customers.
Below are some of the testimonials we have received from the British Malayali Community:
Alan & Maria
We like to thank the British Malayali Matrimony team for making it easy for people like us to register and wishing you all the success in uniting many other soul mates just like us.
Sahil & Zuhara
Thank you for an excellent service and appreciate everything that was done by British Malayali Matrimony.
Charles & Bincy
We found each other in British Malayali Matrimony and wishing you all the success in uniting many other soulmates like us. Thank you so much ukmalayaleematrimony.com
Tilbin & Stella
Thank you British Malayali Matrimony for helping me find my life partner. Thank you for your excellent service.
Abijith & Sreekutty
We heard about British Malayali Matrimony from the Malayali Hindu community in the UK. We express our sincere thanks to the British Malayali Matrimony team.
How would the British Malayali community benefit of British Malayali Matrimony?
With thousands of Malayalees living in the UK, there is a high demand for matrimonial or wedding services to cater to all needs (e.g. religion, communities). We believe the makeup of our team makes us unique and provide an excellent Matrimonial experience here at British Malayali Matrimony.
British Malayali Matrimony is the Matrimonial hub for Malayali Brides and Grooms in the UK to find their ideal partner. Whether you are staying in the UK or thinking of migrating over to the UK, British Malayali Matrimony would be the perfect platform to register. Not only is it free to register, but candidates can also search and find their ideal partners for free as well. Membership packages are available to view contact details of verified profiles on British Malayali Matrimony.
Profiles are fully verified before making it available to members of the British Malayalee Matrimony. This way we can guarantee to provide a safe and secure Matrimonial environment and to prevent any fraudulent activities.
We ask members who register with British Malayali Matrimony to upload an identity document. We accept identity document to be one of the following below:
Passport

Driving License

Aadhar card

Pan Card

School Record

Biometric Card
British Malayali Matrimony advises members to upload their images when creating an account, however, it is optional. Uploading an image can increase your chance of getting a better response from other profiles at British Malayali Matrimony.
Why does British Malayali Matrimony ask for Identification documents?
To comply with the legislation and to provide a safe and secure platform British Malayali Matrimony will request members to provide a form of Identification document upon creating an account.
Rest assured identification documents will not be shared with anyone and strictly only used for verification purposes.
We have put in place measures to try to ensure that everyone on our site is genuine and not involved in fraudulent activities. You should however be very careful about the information that you share with other members and take steps to ensure that who you are dealing with is who they say they are.
We will delete your profile at any time on request. The best way of doing this is through our Site but alternatively, you may contact our customer services team at customerservice@ukmalayaleematrimony.com. We may retain certain parts of your information even after we have deleted your profile where that is necessary for law enforcement or fraud prevention reasons – for example where fraud is suspected and in order to process refunds. In these circumstances, your details will not be accessible to other members.
Type of membership offered by British Malayali Matrimony
Members are not required to make any payment or purchase any membership to make use of the service British Malayali Matrimony provides to the customer. Being a Free account will give you access to searching for potential matches and also to send interest messages.
Although you may register as a member of the service for free with British Malayali Matrimony, if you wish to communicate with other members and use certain other parts of the service, you must become a subscriber and pay the fees that are set out in the Membership, to find more about it please visit www.ukmalayaleematrimony.com/membership.